Indian cities adapting to climate change on stage at Resilient Cities 2013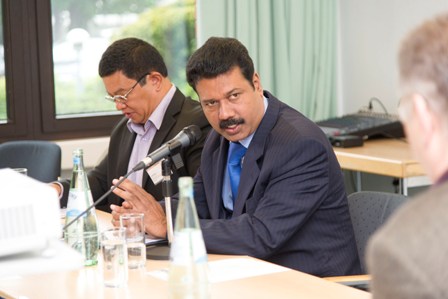 "Taking the right decisions under uncertainty: What do local governments need?" was the tagline of the session organised as part of the AsianCitiesAdapt (ACA) project at the Resilient Cities 2013 conference, that took place on 31 May – 2 June in Bonn, Germany. The session focused on how researchers and decision-makers can make up for the current gaps in knowledge and move forward with their adaptation processes.
Despite the, sometimes, lack of data that are reliable, of good quality and up-to-date, the need to move forward with those available was emphasised. Language barriers between science and cities were highlighted as another current difficulty; developing local knowledge and capacity building was identified as one of the solutions to it, together with inter-organisation collaboration and coordination and with the sharing of information among different countries. Bringing in local universities, scientific, and research partners– as it was done in the ACA project – is also another way to fill the knowledge gap and can be extremely beneficial to advancing local adaptation efforts.
The need to involve the scientific community in the city's resilience planning was acknowledged by Mr Chammany, Mayor of Cochin, one of the Indian cities involved in the project, who also stated "Scientists have knowledge, politicians have power. Combining the two will bring social change".
Read more about ACA activities in South Asia.
The AsianCitiesAdapt project is supported by the Federal Ministry for the Enviroment, Nature Conservation and Nuclear Safety based on a decision of the Parliament of the Federal Republic of Germany.