South Asian cities prove their commitment to adaptation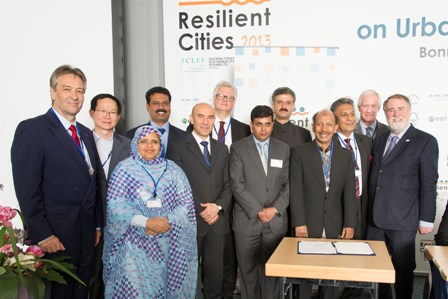 It was not just listening, talking and networking at the Resilient Cities conference in Bonn, Germany, on 31 May – 2 June, for Mr Chammany (Mayor of Cochin, India), Mr Chauhan (Mayor of Shimla, India), Mr Hilmy (Mayor of Matale, Sri Lanka) and Mr Adhikari (Chief Executive Officer and Acting Mayor of Kathmandu, Nepal): the high-level South Asian representatives showed their commitment to advancing sustainability by signing the Durban Adaptation Charter – a global agreement between mayors to mainstream climate change adaptation.
Led by the Mayor of Bonn, Jürgen Nimptsch, other 9 cities joined the South Asian representatives in signing the Charter, representing 15 million constituents and committing to integrating climate adaptation into urban planning and bolster their resilience against climate risks.
"The signing reflects the high importance of local climate action to address climate change adaptation and we hope that the 1,100 signatories will multiply in order to ensure the readiness of cities worldwide to adapt to climate change" said Gino Van Begin, Secretary General, ICLEI.
The Charter, which was developed and adopted during the COP17 UN Climate Summit in Durban, South Africa, in 2011, calls for mainstreaming adaptation as a key informant of all local government development planning while recognising the needs of vulnerable communities and ensuring sustainable local economic development. The Charter offers cities a channel of opportunity to leverage funding sources and partnerships. During the Charter's implementation guidance workshop held in Durban last March and co-organized by ICLEI, city officials further identified potential governance mechanisms, the need for implementation support and for appropriate mechanisms for documenting progress.
The 11 cities which signed the Charter are: Bonn, Germany; Kathmandu, Nepal; Seoul, South Korea; North Vancouver, Canada; Cochin, India; Linköping, Sweden, Tevragh-Zeina, Mauritania; Seferihisar, Turkey; Shimla, India; Matale, Sri Lanka; and Pekalongan, Indonesia.

Read more about the involvement of the South Asian delegation at Resilient Cities here.