Jaisalmer and Kishangarh receive training for water quality testing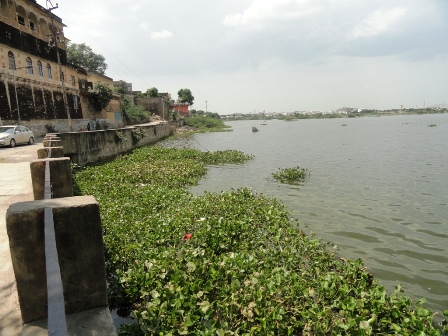 Citizens of Jaisalmer and Kishangarh will now be able to test and monitor water quality in their cities for the various parameters using the water testing kit; on which they recently received hands on training under the European Commission funded project on Adopting Integrated Urban Water Management in Indian Cities (AdoptIUWM). These training programmes in water quality monitoring were undertaken, on request from project cities, as part of the capacity building of local officials for 2 cities in Rajasthan and 2 cities in Maharashtra in partnership with Development Alternatives (DA). The stakeholders and the various officials who were a part of these training programmes were sensitized towards the need for water quality monitoring, significance of water quality parameters and impacts of water pollution.
These interactive workshops included a practical demonstration for the stakeholders on using the water testing kit and testing of samples from tap water and pond water to demonstrate the results for various water quality parameters. Discussions on methods of testing and monitoring water quality of various vital water bodies in both the cities such as Gadisar Talab (Jaisalmer) and Gundolav Talab (Kishangarh) were also undertaken.
As a part of this training, which was facilitated by technical experts from DA and a representative from ICLEI South Asia, a portable water quality testing kit has been provided to Jaisalmer and Kishangarh Municipal Council under the project. This kit will be stationed in the Municipal Council but can be used for water quality monitoring purposes by citizens, NGO's or other institutions as well.
The AdoptIUWM project aims at building the capacity of the Indian local governments to undertake water sector reforms through the adoption of Integrated Urban Water Management (IUWM) principles and practices in their planning and implementation processes.
Read more about the project's activities here.