Key Findings from the Intergovernmental IPCC Fifth Assessment Report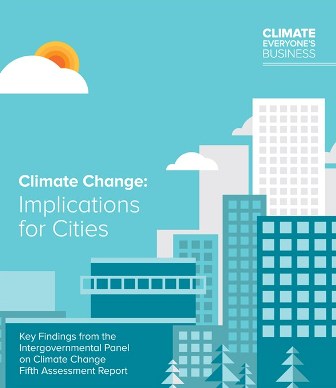 Cities account for 37–49% of global greenhouse gas emissions and urban infrastructure accounts for over 70% of global energy use. This is just one of the facts found in the "Climate Change: Implications for Cities – Key Findings from the Intergovernmental Panel on Climate Change Fifth Assessment Report." ICLEI President David Cadman stressed the relevance for integrated climate action at the local level, a process led by local governments in partnership with business, industry and civil society. "This Cities Summary succinctly summarizes the key implications for urban areas. It is a must read for all local decision-makers", said Cadman.
The role of local governments in driving community emissions reduction and protecting their inhabitants and infrastructure against the impacts of climate change is central to effective climate policy. The briefing, published jointly by ICLEI, and the University of Cambridge's Institute for Sustainability Leadership and Judge Business School, with the support of the European Climate Foundation, demonstrates the urgency for climate change mitigation (and low emission development) as well as adaptation; while also revealing the growing threat of climate change to cities as well as their potential to curb greenhouse gas emissions to prevent further climate change:
Many emerging climate change risks are concentrated in urban areas. The world's urban population is forecast almost to double by 2050, increasing the number of people and assets exposed to climate change risks.
Cities will be affected by climate change-related events such as rising temperatures, heat stress, water security and pollution, sea-level rise and storm surges, extreme weather events, heavy rainfall and strong winds, inland flooding and food security issues.
Steps that build resilience and enable sustainable development in urban areas can accelerate successful climate change adaptation globally.
City-based sectors with potential for mitigation include buildings, energy, transport, and industry.
View the Press release here or read the summary here.