Kochi's Illustrated Natural Asset Map Show Blue-Green Infrastructure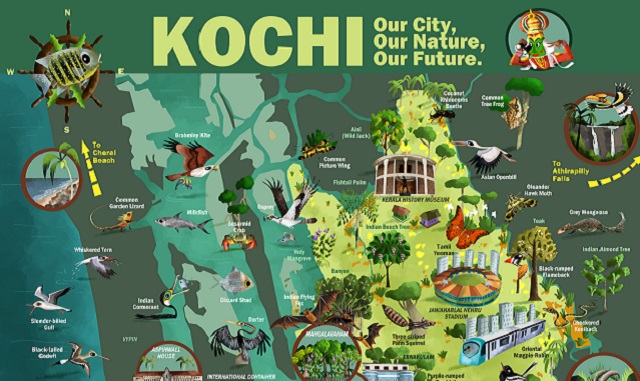 Natural asset maps have been developed for project cities under the INTERACT-Bio project, supported by Germany's Federal Ministry for the Environment, Nature Conservation, and Nuclear Safety. These maps show the blue-green infrastructure of the cities on the geographic information systems (GIS) platform.In order to communicate the significance of the ecosystems in the city to the citizens, illustrated natural asset maps are being developed. The infrastructure mapped includes river, paddy cultivation, mangrove patches, home gardens, water bodies, pokkali cultivation, prawn cultivation, inland fisheries and open green spaces. View FULL MAP.
By providing a visual interpretation of the existing urban ecosystems, the maps will help cities to plan better in future.
Kochi's illustrated natural asset map, which has already been prepared, has been highly appreciated. The maps for the other project cities are also being developed.
The INTERACT-Bio project aims to strengthen the integration of biodiversity management at all levels of governance and facilitate similar cooperation on urban ecosystem management.