Kolkata builds capacities to achieve climate resilience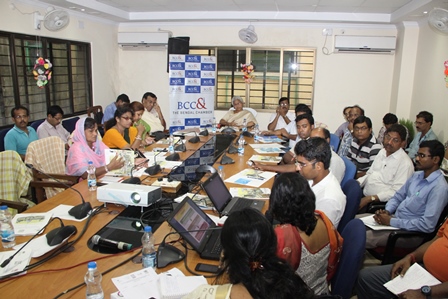 Kolkata, the City of Joy, went through a series of training workshops on climate change and its impacts on the city. The objective of 16 sessions held in August and September was to sensitise councillors and other government officials of Kolkata Municipal Corporation (KMC).
The workshops were organized by ICLEI – Local Governments for Sustainability, South Asia (ICLEI South Asia), in collaboration with the Bengal Chamber of Commerce and Industry (BCCI) as a local partner. The trainings were conducted at the borough level where the ward councillors of each borough could participate along with the borough executive officers to discuss the projected impacts of climate change on urban systems and possible measures that can be undertaken to meet this challenge.
The objective of the workshops was to raise awareness about developing Kolkata as a low carbon and climate resilient city and also to enhance overall understanding of climate change – the science of climate change, its impacts on urban systems, and means of tackling it.
The emphasis was also on getting more information on engaging communities for climate action and on mainstreaming climate action in planning and development of the city.
The results of the workshops strongly support the conclusion that the institutional mechanism of building capacity of councillors and executive staff on climate change can help to make the city more resilient through cumulative local actions. Therefore, it is needed that a cell be constituted at KMC to work exclusively towards incorporating climate action in city planning and development.
Also, a strong campaign can help to increase awareness on climate change related issues amid communities and local organizations, along with municipal officials and representatives, thus bringing them together to achieve greater resilience.