Launching IEC materials for building climate resilience in Kolkata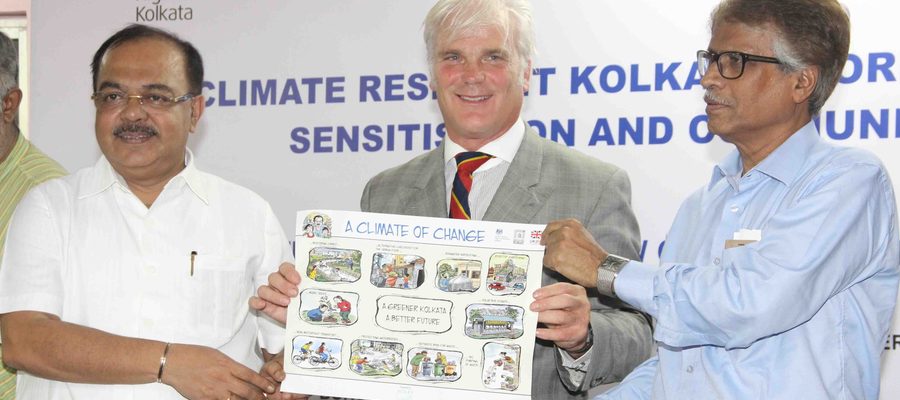 Under the UK-KMC (United Kingdom-Kolkata Municipal Corporation) MoU on Low Carbon and Climate Resilient Kolkata signed in November 2013 during the UK Prime Minister's visit to Kolkata, ICLEI South Asia is assisting British Deputy High Commission in Kolkata to implement the 'Sensitisation Programme for Kolkata Municipal Corporation Councilors and Members of Mayor-in-Council on Climate Change'.
Under this programme, ICLEI South Asia in collaboration with the Bengal Chamber of Commerce and Industry (BCC&I) organized a series of Training Programmes for all the boroughs of Kolkata Municipal Corporation between 19 August, 2015 and 7 September, 2015. The workshops targeted councilors and local government officials. Each session was a two hour session, with a mix of presentations, short film shows, exercises, guest speeches, street plays and one to one interaction with the participants.
As part of this series, on 25 August, 2015, a special event was organized in Borough III on the eve of UK Government's Minister of State at the Department for International Development (DFID) along with the Mayor and Commissioner of Kolkata Municipal Corporation to launch the IEC materials developed by ICLEI South Asia for local councilors on climate resilience building. These included the Bengali and Hindi versions of a graphic booklet specially designed for councilors and a poster on climate resilient action at the ward level to be displayed in ward offices. The launch was in the presence of State Government Minister of Environment, Mr. S. Ghosh Dastidar and 2 Members – Mayor in Council, Mr. D. Kumar and Mr. S. Samaddar. The Mayor announced that the poster will be displayed on all the bus stops and the upcoming puja pandals.
During the event, Mr. S P Gon Choudhury, Mr. Tapas Ghatak and Mrs. S. Mukherjee were special speakers who presented on solar power and its uses, community based disaster management and solid waste management respectively. A brief presentation on the background of climate change and role of councilors in climate resilient development was also made by ICLEI South Asia during the event.
Find the booklets and the poster below: