Meet Mrs. Sushila Abute, Former Mayor of Solapur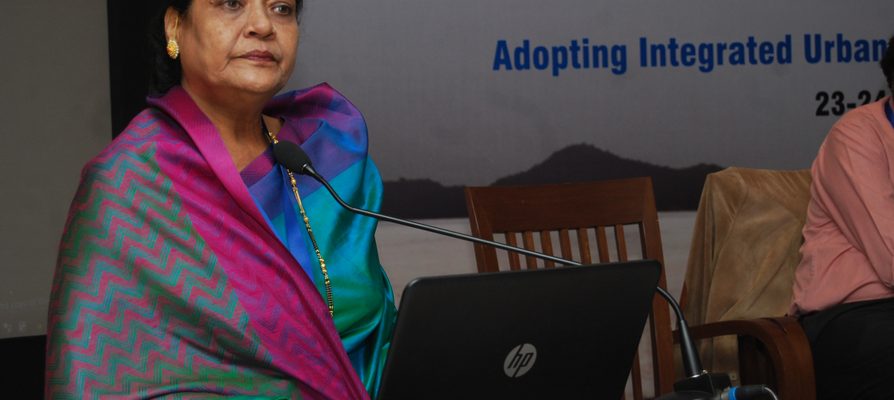 Mrs. Abute has been actively involved in city's quest for better management of water resources. Her efforts are a reason behind the success of AdoptIUWM project in the Maharashtrian city. "For a city facing immense challenges like pollution, water conflicts and transportation losses, it was crucial to stand together and overcome all the challenges that came in its way," says the former Mayor.

What are the main challenges for Solapur on water management?

Located in the Bhima and Sina river basins, Solapur is one of the selected Smart Cities and has traditionally been renowned for its textile industry. It is also one of the major water consumers in the region (Ujjani Dam and Bhima River) and faces issues like high non-revenue water losses, water conflicts, pollution of water resources, etc. The city has four large ponds within Municipal boundary and is dependent on Ujjani dam (100km from the city) and Bhima River for its water supply. Over the years, water pollution and scarcity have become grave challenges for the city.
How has IUWM project helped city in managing its water resources better?

The citizens of Solapur were not very convinced about how their efforts could save water for the city. When the AdoptIUWM project team held stakeholder discussions with the residents, they were gradually sensitised about the importance of conserving water resources. Information, Education and Communication (IEC) activities were also organised. Trainings for the officials, including the exposure visit also helped to add value to city and ICLEI South Asia's efforts through the project.
Please tell us about two pilot projects implemented in the city.


The two selected pilot projects for Solapur were: recharge of abandoned bore wells and hand pumps and revival of defunct community toilets. The focus of both the selected projects was on restoring existing defunct community infrastructure in settlements of urban poor. After the toilets were revived, residents appreciated the intervention and showed willingness to pay for toilet facility, especially women who face safety related concerns were keen on revival of community toilet block. Similarly, groundwater recharge activities carried out at three sites and are much appreciated by the citizens now.