Parking Management Plan piloted for Ashwini Bazaar, Udaipur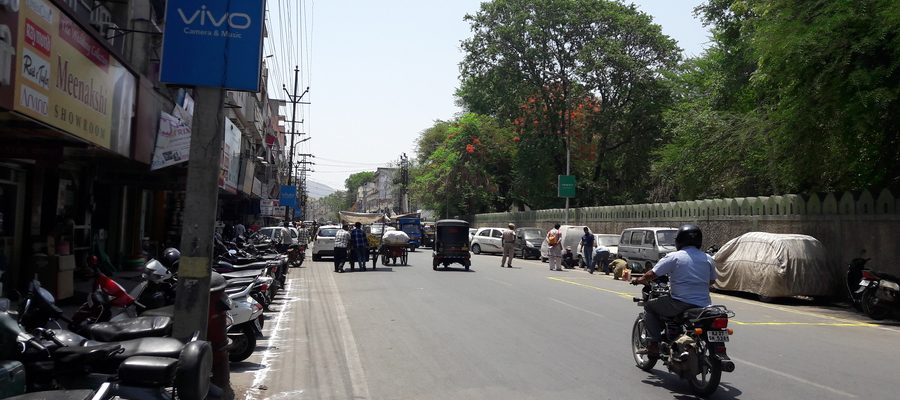 ICLEI South Asia, under the project Supporting Smart Urban Mobility and Built Environment, financed by Shakti Energy foundation, carried out a pilot experimentation of the parking management plan along Ashwani Bazaar road in Udaipur. The plan was prepared after discussions with city stakeholders such as officials from the Corporation, Traffic Police and representatives from Ashwini Bazaar Market Association (ABMA).
Ashwini Bazaar Road is a sub-arterial street, connecting Delhi Gate to Hathi Pole with heavy commercial activities on one side and a dead boundary wall on the other against which cars are parked during the day, and transport vehicles at nights. Complete removal of on street parking is not a solution, hence, after calculating parking demand based on an extensive survey, alternate on-street parking has been proposed, along with the incorporation of existing off-street parking lots, putting good use to underutilized and expensive resources.
Currently, free parking is provided along the roads. However, a parking pricing has been introduced in the proposal to make parking monetarily feasible to city managers, reducing unnecessary parking, which otherwise would be used without realizing associated opportunity costs. Material classification has been suggested for clear segregation of various activities such as footpaths, hawker spaces, bus stops, auto parking and seating spaces.
On- site demonstration on 16th May 2017, at Ashwini Bazaar Market Road
The onsite demonstration was carried out with Corporation Engineers and support staff on a small stretch of the road using temporary demarcation of spaces (footpaths, parking bays, driveways). The temporary demarcation was done using commonly used white powder which clearly defines the spaces as per the design. A 50 m stretch was chosen to demonstrate the impact of organized parking as per the design. A space to accommodate 20 two wheelers (1mX2m, perpendicular parking) and five four wheelers (5mx2.5m, parallel parking) was demarcated after leaving a footpath space of 2.3m on either side along with a single lane motorable road of 3.75m on either side.
The local media and the corporation promoted the pilot rigorously, thus contributing to its successful pilot implementation. Since the implementation, the Udaipur Municipal Corporation has requested for a brief status report, including some design changes and inputs on other similar areas in the city.
Media reportage of the pilot can be accessed here.