Plastic Waste Management in Hyderabad – Gap Analysis Highlights Key Issues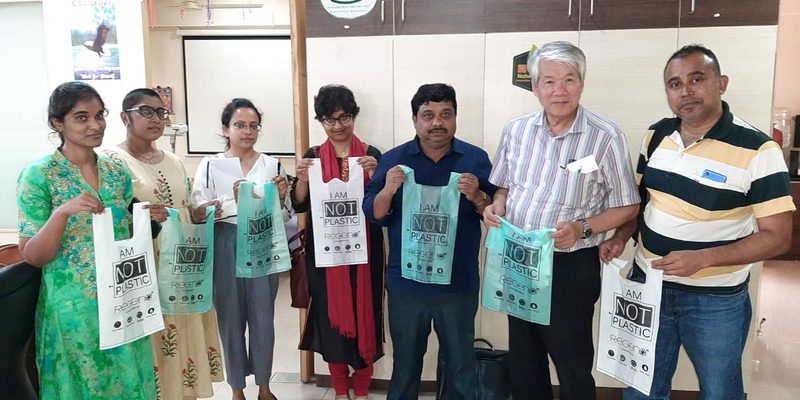 A comprehensive baseline and gap analysis of the plastic waste management system in Hyderabad was conducted as part of the project, "Holistic Strategy and Action Plan for Plastic Waste Management in Greater Hyderabad Municipal Corporation (GHMC)".
An assessment of the quantum of different types of plastic waste generated in the city, and a study of the formal and informal sectors that handle this plastic waste led to the identification of key areas that are to be addressed and strengthened in order to develop a scientifically sound and comprehensive plastic waste management system for Hyderabad. An obscure plastic waste value chain, undefined/unidentified end-use of plastic waste, limited scientific processing of plastic waste and related environmental concerns and poor access to appropriate and at-scale plastic waste processing/recycling industries are some of the challenges that need to be addressed.
In meetings of ICLEI South Asia and IGES teams with senior officials of the GHMC on the 9th and 10th of July 2019, a pilot project, which would address the issue of single-use plastics comprehensively within a selected area, was also discussed and finalised.
Kazunobu Onogawa, Director, CCET, and Dr Premakumara Jagath Dickella Gamaralalage, Senior Researcher/ Programme Manager (Sustainable Consumption and Production), Institute for Global Environmental Strategies (IGES), along with the ICLEI team, also discussed the modalities of the pilot project with Mamtha Santhosh Gupta, the Corporator (Gunfoundry) of the Birla Mandir – Adarsh Nagar pilot area, and sought her inputs. Ms. Mamtha was of the opinion that the Birla Mandir- Adarsh Nagar area is representative of the many small markets in Hyderabad and would be an ideal location to start such an initiative. The pilot project aims to assess the use of single-use plastics in the area, find suitable and economically viable alternatives to these products, link the shop owners to the suppliers of such alternatives and ensure the sustained use of such materials. Where there is an inevitable use of plastics and subsequent waste generation, due to the absence of viable alternatives, a linkage to an environmentally sound recycling system will be ensured. An assessment of developing small and medium-scale enterprises, especially with an aim to link the local self-help women's groups and other economically vulnerable groups to such business, will also be undertaken. Based on the experience in the smaller market in Adarsh Nagar, IEC activities to create awareness about the availability of suitable alternatives to single-use plastics will also be attempted in larger markets in Hyderabad.
The ICLEI South Asia team, with technical inputs from the IGES-UNEP teams, is also in the process of developing a comprehensive strategy and action plan to manage plastic waste in Hyderabad. A state-level framework to manage plastic waste will also be prepared.