Rajkot to be one of the First Indian Cities to Develop District Cooling System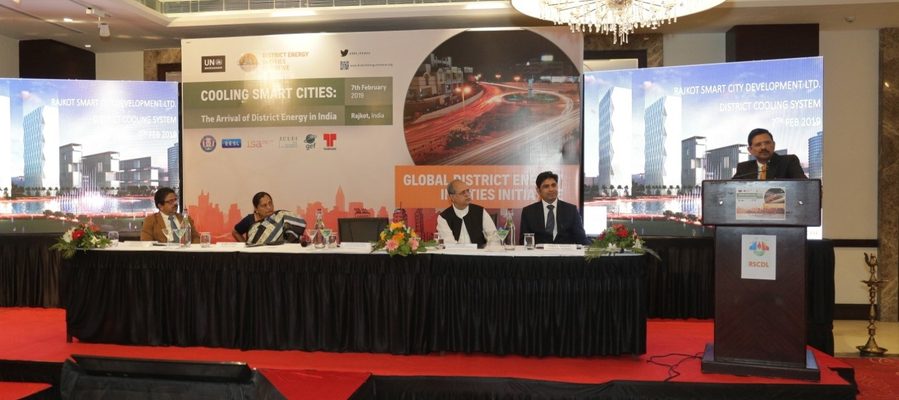 A workshop on 'Cooling Smart Cities: The Arrival of District Energy in India' was organised on the 7th of February 2019 in Rajkot, Gujarat, by UN Environment with support from ICLEI South Asia and Swiss Agency for Development and Cooperation funded CapaCITIES project.
The aim of the workshop was to raise awareness, accelerate investments and unlock supportive policy frameworks for district energy systems in India. Various national and international experts involved with the District Cooling Systems (DCS) shared their knowledge and expertise.
Over 125 people from various government departments, city government officials, builders, civil engineers, industrialists, consultants and private players participated in the workshop, including Ministry of Housing and Urban Affairs, Gujarat Energy Development Agency (GEDA), Energy Efficiency Services Limited (EESL), Copenhagen Centre on Energy Efficiency, Danfoss, Clarke Energy, Thermax, Tabreed, Broad Group and ISHRAE.
"UN Environment commended Rajkot in its engagement on DCS through the UN Environment-led District Energy in Cities Initiative and extended the support of UN Environment to Rajkot as a pilot city of this Initiative. UN Environment is proud that Rajkot will be one of the first cities in India to develop DCS and the first to link it explicitly with the Smart Cities Mission," said Mr. Atul Bagai, Country Head, UN Environment India Office.
Mr. Bagai also urged cities, the government of Gujarat and India to take forward Rajkot's example and incorporate DCS as a central technology in smart cities.
Mr. Jagadip Narayan Singh, Chief Secretary, Government of Gujarat in his keynote address explained Gujarat's economic importance and its leadership among states in the shift to renewable and energy efficiency.
"Rajkot is an engineering hub and district cooling will give it a boost. The leading role Rajkot is taking in DCS and other technologies within the Smart Cities Mission is commendable. This can be 'lighthouse' to other cities interested in developing such systems. The state government is fully behind this initiative and will support it," he said.

During the workshop, 'DES in Indian Cities' Initiative has invited Rajkot to be its second pilot city in India. The UN Environment has signed an MoU with the city to provide technical support during the design and procurement of DCS in its smart city area and to explore policy options.
The workshop witnessed discussions on specific concerns of identifying business models that can recover the capital investment in DCS and investors that can share some of the CAPEX and risk, policy level support on incorporating DCS into the Town Planning Scheme, whether the connection of the waste-to-energy plant is viable (waste heat reuse) and technology questions, such as on the need for tertiary treatment of STP water for reuse in DCS, were discussed during the workshop.