State Level Meeting to Discuss Project Activities in Solapur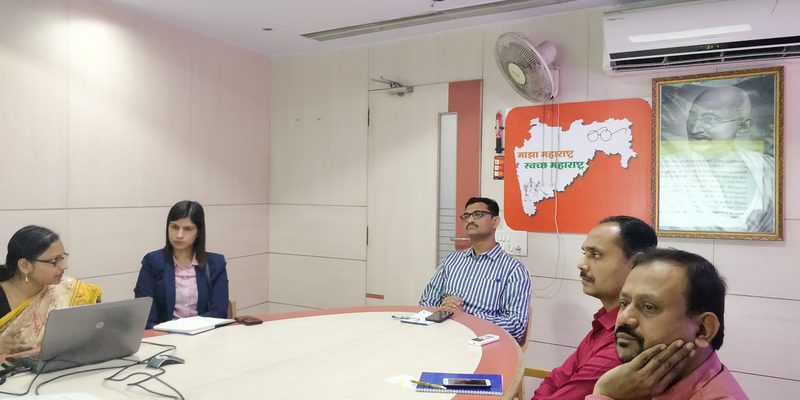 A state level review meeting with the officials of Water and Sanitation Support Organisation (WSSO) of Maharashtra, under the IAdapt project, was held in Navi Mumbai on the 8th of February, 2019.
The IAdapt project is funded by the International Development Research Centre (IDRC), Canada and being implemented at Solapur in Maharashtra and Vijayawada in Andhra Pradesh.
The project team updated various state level departments, including Water Supply and Sanitation Department and Urban Development Department, about the project activities and its relevance to national/state level policies.
Detailed discussions were held with senior officials from WSSO, which is responsible for implementation of various water sector related schemes in rural Maharashtra.
The project team presented overview of the activities conducted in Solapur such as micro-catchment selection, identification of RURBAN platform, climate risks to the water resources of the region, vulnerable systems and areas, prioritised projects, capacity building, awareness activities, among others.
ICLEI South Asia also invited WSSO to be a part of RURBAN team and guide this initiative where principles of IUWM and IWRM would be implemented for sustained water usage.
The Director at WSSO appreciated the tasks undertaken at Solapur and assured his support for future activities. He explained how villages in Maharashtra are facing water scarcity especially for this drought year and importance of such rural-urban partnerships for water resource conservation. He also mentioned that the outcomes of this project will help to develop state level policies and reduce impacts of climate change on water resources and schemes.
ICLEI South Asia appealed WSSO to consider principles of IUWM and IWRM for on-going and future schemes implemented at various villages in Maharashtra and to train their officials for integration of various concerns related to water sector.