Rajkot's bike sharing program – advancing towards low carbon mobility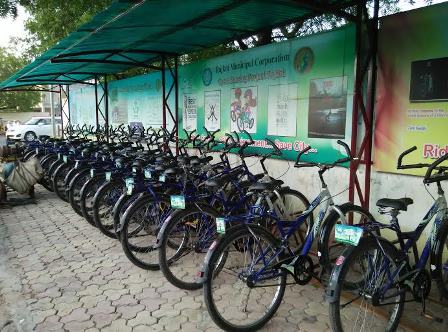 As awareness is increasing among cities and its people for sustainable and low carbon modes of transportation, bicycles are emerging as a new top trend. Bikes, with their numerous health benefits, add to making the city more sustainable and to increase awareness towards low carbon mobility.
Rajkot Municipal Corporation (RMC), supported by Rajkot Rotary Midtown library and a popular radio channel, Radio Mirchi, has initiated bicycle rental systems in multiple locations across the city. RMC are developing a range of low emission development strategies and this bike sharing program emerges as one of the significant ones. Though the system currently is manually operated and present only at few locations in the city, RMC with support from ICLEI South Asia and as a part of its activities under the Promoting Low Emission Urban Development Strategies in Emerging Economy Countries (Urban-LEDS) project, plans to extend it to more areas within the city and are looking at ways to shift from a manually operated system to a more technologically reliant system.
Presently the system is free of cost to all users and is open for 6 hours in a day during morning and evening. Other low carbon mobility strategies that the city has undertaken include a BRT (Bus Rapid Transit) system, a city-bus system and plenty of cycle tracks. They are also looking at developing a city wide non-motorised transport (NMT) infrastructure.
Rajkot is a model city under the Urban-LEDS project and has been effectively and efficiently working towards spreading awareness on low carbon technologies among the general public, be it the installation of solar PV systems on school rooftops, solar street lighting, a renewable energy cell, decentralised wastewater treatment system with biogas generation and much more.
More information on the Urban-LEDS project can be found here.