Regional partners meet in Singapore kicks off Building Efficiency Accelerator project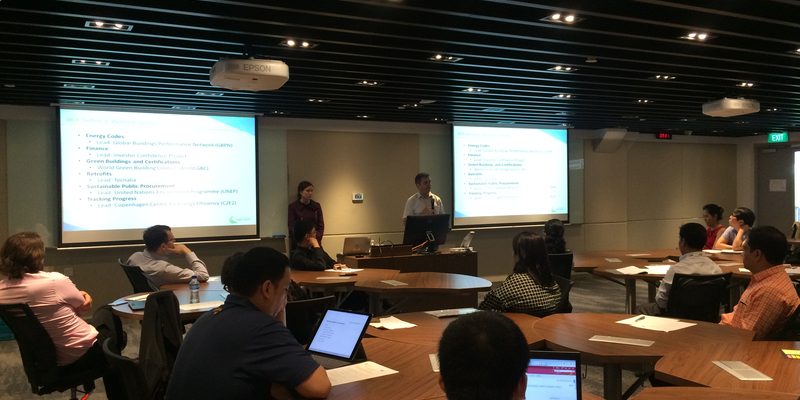 A regional partners' meeting to advance peer learning amongst cities on opportunities and challenges regarding building energy efficiency was recently organised to kick start the Building Efficiency Accelerator project. The meet was organised by World Resource Institute (WRI), along with ICLEI – Local Governments for Sustainability, World Secretariat, in Singapore. Held on September 8, 2016 at the office of Building and Construction Authority, the meeting was also utilised to identify the technical assistance needs of participating cities and to explore the possibility of matchmaking with global partners under the initiative.
Funded by UNEP-GEF and with WRI as the implementation partner, the project involves three cities from India: Rajkot, Coimbatore and Shimla. Of these, Rajkot will be involved in a deep dive partnership with ICLEI as a technical consultant to lead Rajkot's building energy efficiency through reforms in local building bylaws, identification and implementation of priority projects in building sector, and institutionalising a monitoring framework. To kick start the process, the city has just signed a Memorandum of Understanding with ICLEI South Asia.
The SE4ALL Building Efficiency Accelerator (BEA) is one of the six individual accelerators that were formed under the "Global Energy Efficiency Accelerator Platform" that acts as a bridge between the business and the governments. The global Platform consists of six individual accelerators to help speed deployment of efficiency solutions and policies for buildings, lighting appliances, district energy systems, industry and transportation.
The objective of the meeting was to inform the partner cities about the initiative, identify technical assistance needs of partner cities and seek their inputs on the need of support and help that may be required from the BEA partners to move ahead with their holistic action plan to integrate energy efficiency in buildings sector and help them in preparing their action plan to achieve those targets.
The meet also proved to be an opportunity to know the priorities of the participating cities and the progress they have achieved on selecting and implementing actions to improve building efficiency. The opportunities and challenges to upscale the building efficiency actions were discussed during the meeting and suggestions were sought to know the potential help and support that BEA and global partners can extend to the participating cities. The platform also promoted discussions on strengthening national-local relationships on building efficiency within participating counties/cities, and engaging additional organisations and cities as new partners to the BEA.
Participating Cities and Organisations:
City of Mandaluyong, Philippines
City of Santa Rosa, Philippines
City of Ulaanbaatar, Mongolia
Global Alliance for Buildings and Construction (Global ABC)
Global Buildings Performance Network (GBPN)
ICLEI-Local Governments for Sustainability
Iskandar Regional Development Authority, Malaysia
Rajkot Municipal Corporation, India
Tianjin Eco-city, China
Ulaanbaatar Development Corporation
United Nations Environment Programme (UNEP)
World Resources Institute