Resilient Cities Concludes with a Firm No to Unsustainable Development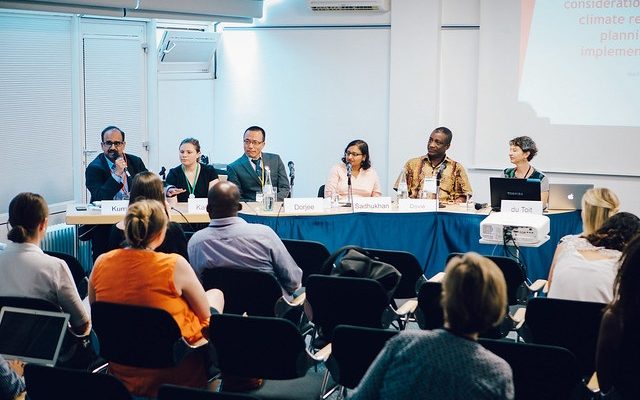 ICLEI South Asia participated in the 10th Global Forum on Urban Resilience and Adaptation organised by ICLEI – Local Governments for Sustainability in Bonn, Germany. The event was held from the 26th to 28th of June.
ICLEI GexCom member Kinlay Dorjee, Mayor, Thimphu Municipality, Bhutan also represented South Asia at the Congress.
ICLEI South Asia organised a session on 'The Urban Nexus: Tool to Localize and Deliver Global Agendas' which was facilitated by Stefanos Fotiou, Director Environment and Development Division, ESCAP, Bangkok, Thailand.
The session primarily drew from lessons and insights in the implementation of the regional project, GIZ Integrated Resource Management in Asian Cities: The Urban Nexus funded by the German Federal Ministry for Economic Cooperation and Development (BMZ).
The project is implemented by GIZ in cooperation with ICLEI – Local Governments for Sustainability and UNESCAP as political partner.
During the session, participants understood and appreciated the importance of integration across jurisdictions and sectors required to optimise resources and develop co-benefits; challenges with respect to horizontal and vertical integration, financial constraints and role of local governments in contributing to the different global agendas using the nexus approach.
Devendra Mahajan, General Manager, Nagpur Smart and Sustainable City Development Corporation Limited, Nagpur; Bedoshruti Sadhukhan, Senior Programme Coordinator, ICLEI South Asia, Monika Zimmermann, Ex-Deputy Secretary General of ICLEI and Ranell Martin Dedicatoria, ICLEI Southeast Asia were part of the panel. Emani Kumar, Deputy Secretary General, Regional Director, ICLEI South Asia served as the speaker in the session.
In the session 'Incorporating Gender Considerations into Climate Resilient Planning and Implementation: Lessons from Southern Cities', the Climate and Development Knowledge Network (CDKN) convened an interview-style panel discussion to consider the ways in which to implement a gender-responsive approach to climate resilience within cities by learning from the experiences of the global South.
During the session, Kinlay Dorjee, Mayor of Thimphu, Bhutan spoke about creating more opportunities for women.
"Women in Bhutan have equal rights now. My mother wasn't educated back in her time, today my daughter dreams of becoming the Prime Minister. Women have more opportunities now," he said.
Mr. Kumar, who also facilitated the session, rightly pointed out, "Gender considerations are very important for resilience – many councils in India have targets to increase the number of women councillors, but often the men are still the ones making the decisions."
The session helped participants gain an understanding of the importance of including gender considerations into city resilience planning and implementation.
The discussion was hosted by Michelle du Toit, CDKN Programme Manager, SouthSouthNorth, Cape Town, South Africa. The panel also included: Bedoshruti Sadhukhan, Senior Programme Coordinator, ICLEI South Asia , Jessica Kavonic, Professional Officer: Cities Biodiversity Centre, ICLEI Africa, Cape Town, South Africa and Delali B. Dovie, Research Scientist, University of Ghana, Ghana.
ICLEI South Asia was also part of the International Development Research Centre (IDRC) organised session 'Tackling Complex Urban Challenges: The Role for Collaboration'.
This session explored how different actors can be mobilized to tackle complex urban challenges.
The panel drew on experiences from action research carried out in India (Solapur), Nepal (Dhulikhel and Dhuran) and Ghana (Accra) where different multi-stakeholder collaborative approaches were co-developed and used to establish a better shared understanding of the water-related challenges and risks facing cities and to co-design and test innovative responses.
The panel shared the results borne from a collaborative approach and reflected on what factors enable or hinder effective collaboration for significant action to build more climate-resilient cities.
Bedoshruti Sadhukhan, Senior Program Coordinator (Sustainability), presented the experience of developing an Integrated Catchment Management Plan in a mid-sized Indian city: Solapur District in Maharastra State with both rural and urban stakeholders. The approach sought to address the gaps and barriers that prevent city stakeholders from engaging with surrounding catchments to adopt integrated water resource management approaches.
Kamal Devkota, Program Director, Southasia Institute of Advanced Studies (SIAS), Kathmandu, Nepal shared the experience of initiating a multi-stakeholder water forum approach (called Pani Chautari) in two rapidly urbanizing hill towns in Nepal (Dhulikhel and Dhuran) to bring together science, policy and practice and co-develop innovative actions for water management.
The panel also included Benjamin Delali Dovie, Research Scientist, Regional Institute for Population Studies, University of Ghana, Legon, Accra, Ghana with Heidi Braun, Program Officer, IDRC, Ottawa, Canada as the facilitator.
In the closing plenary, Mr. Dorjee left us with his wise words, "When a country of less than a million in the Himalayas is making noise that we need to act, then every youth in every country should stand up and say it is enough. Enough of the pollution and unsustainable development. We should look at human beings. That is what it is all about – take care of our environment and our culture and our people."