Shimla bags the award for the "Best City for Public Services"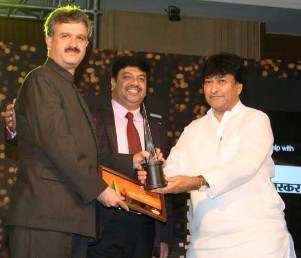 ICLEI member city Shimla was recently awarded as the Indian "Best City for Public Services" at an event organised by the ABP News Group in New Delhi on March 11, 2014. Shimla, also known as the 'Queen of hills', stood in good stead to win the title under the category 'Public Services' for its reliable transportation system, low frequency of power cuts, a well maintained water supply system, and adequate provisions and facilities for tourists visiting the town throughout the year. City mayor Mr. Sanjay Chauhan collected the award from the hands of veteran Delhi Congress leader Mr. Haroon Yusuf during the ceremony.
Designed for a population of 20,000 people, the town is today home to more than 200,000 people. Despite being located on a hilly terrain, the city administration has been working hard to provide all the basic infrastructural facilities to its dwellers, managing to provide ample housing facilities, de-clutter roads, as well as generate employment opportunities for the youth.
In addition to the achievements mentioned above, the city's development plans driven by an enthusiastic and committed administrative body and the zeal and love of the people of Shimla for their city has made the queen of hills bag the award for the "Best city for Public Services".
Shimla is also home to many well-recognised colleges and research institutions in India, numerous temples and palaces, neo-gothic architecture dating from the colonial era and its cycling groups, of which one is led by Deputy Mayor Tikender Singh Panwar (Read more).
You can also watch a clip from the award ceremony:
http://www.youtube.com/watch?v=dc2pxoJW5_c