Smart City Mission: ICLEI congratulates first batch of selected cities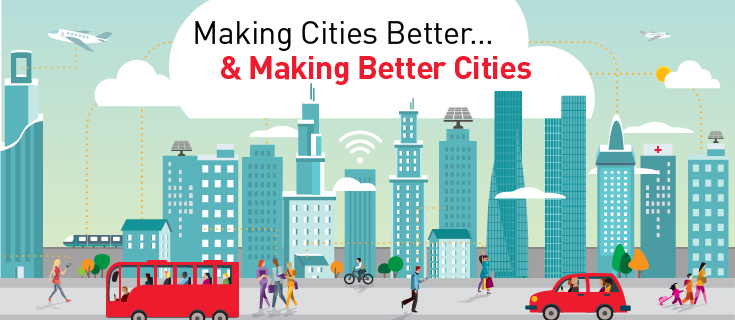 ICLEI – Local Governments for Sustainability South Asia is proud to note that it has been in close association with most of the 20 cities selected for the first phase of Indian government's "Smart Cities Mission".
Of the 20 cities that will be developed under the first phase of the NDA-government led mission, 11 are ICLEI's member cities. These include: Pune, Bhubaneshwar, Jaipur, Surat, Solapur, Ahmedabad, Jabalpur, Vishakhapatnam, Guwahati, Coimbatore and Bhopal. The list of 20 cities was released by Union Minister Venkaiah Naidu last week. These cities will be the first to get funds worth Rs 100 crore each per year over the next five years. More cities will be included in two batches of 40 and 38 in next two years.
Cities from 11 states have made up to the first list of Smart City project. ICLEI – South Asia is offering hand holding support to Udaipur, Jaipur, Vishakhapatnam and Kakinada cities.
The organization has been working with many other selected cities under projects that range from transport and water management to solid waste and mapping of carbon emissions. These cities include Cochin and Ludhiana, among others. Of the remaining nominated cities, 18 are member cities and we hope to see them winning the challenge in the next phase.
Also, ICLEI South Asia was directly involved in developing the proposal for Panaji city in Goa. The team now looks forward to work with Corporation of the City of Panaji to revise the proposal for the second round of the challenge that will open in April 2016. It is expected that about 40 cities will be announced in August 2016 for the next phase of the plan.
Below is the first list released by the government:
(in order of rank secured by these cities after assessment of proposals)
1) Bhubaneshwar
2) Pune
3) Jaipur
4) Surat
5) Kochi
6) Ahmedabad
7) Jabalpur
8) Vishakapatnam
9) Solapur
10) Devenagere
11) Indore
12) New Delhi Municipal Corporation
13) Coimbatore
14) Kakinada
15) Belagavi
16) Udaipur
17) Guwahati
18) Chennai
19) Ludhiana
20) Bhopal