Solapur holds its first RURBAN SLD under IAdapt Project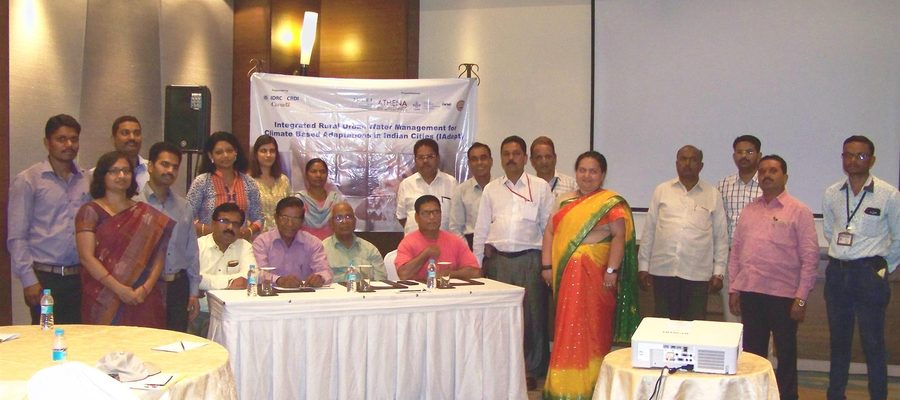 The First RURBAN Shared Learning Dialogue (SLD) in Solapur under the International Development Research Centre (IDRC) funded IAdapt project was conducted on the 15th of May, 2018. The meeting provided a platform for both rural and urban stakeholders to discuss common water related issues. The main objectives of the meeting were:
To introduce the project to the local stakeholders and explain the ideas and objectives behind the project.
To explain the climate risks to the water resources of the region.
To identify the systems related to water sector that are fragile in the region.
To conduct a risk assessment of the fragile systems.
To identify the prioritised systems for further assessment in the project.
This meeting was chaired by the Commissioner, Solapur Municipal Corporation (SMC). Participants included representatives from Public Health Engineering Department; Town Planning Department, Health Department, City Engineer from urban areas, Gramsevak (Development officer) of 3 target villages in the selected micro-catchment, elected public representatives of 2 villages, Water Resources Department, Maharashtra Jeevan Pradhikaran (rural water supply) and Agriculture Department along with NGOs working in the selected micro-catchment.
During the SLD, ICLEI South Asia explained the project objectives and expected outcomes as well as the progress of the project activities to the stakeholders. ICLEI South Asia facilitated the discussions among the rural and urban stakeholders to identify vulnerable sectors that are related to water resources. Each of these sectors were analysed to understand their current and future vulnerabilities, particularly with reference to climate change risks that are likely to be felt in the region. A climate risk assessment was conducted to understand the likelihood and consequence of each risk that has been identified for the sectors.
The main fragile systems that have been identified are water supply, waste water, storm water drainage, solid waste, agriculture, and health, all of which have some components that have high or extreme climate risks.
The next step in the process will be to identify the vulnerable areas and populations that would be impacted by these climate risks so as to develop resilience interventions that will feed into a catchment management plan for the micro-catchment that has been selected as the project area.