Solar Photovoltaic System Gets Inaugurated in Rajkot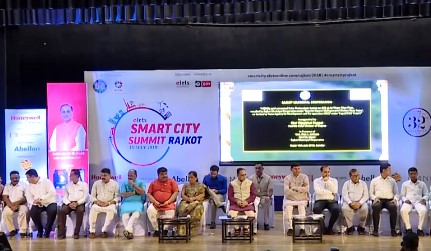 The Hon'ble Chief Minister of Gujarat Shri Vijaybhai Rupani, inaugurated a 145 kilo watt power (kWp) grid connected Solar Photovoltaic (SPV) System installed at the Aji Water Treatment Plant, on the 15th of July 2018, during the Smart City Expo in Rajkot. Hon'ble Mayor of Rajkot Municipal Corporation, Smt. Bina J. Acharya was also present at the event.
This pilot project is funded by the CapaCITIES project, supported by the Swiss Agency for Development and Cooperation and is co-funded (75 kWp) by Rajkot Municipal Corporation (RMC) under the ''Swarnim Jayanti Mukhyamantri Shaheri Vikas Yojna (SJMMSVY)".
The baseline energy inventory for Rajkot indicates that water supply accounts for 61% of the total municipal electricity consumption during 2015-16, amounting to 38.36 million units per year. The installation of the SPV system at the Aji Water Treatment Plant will generate around 211,700 units electricity per year, which is equivalent to 25 percent of the total power consumption in the plant. This has a potential to reduce 174 tons of CO2 equivalent GHG emissions, resulting from the shift to renewable energy from conventional energy.