SUNYA Project Gets Appreciation in Coimbatore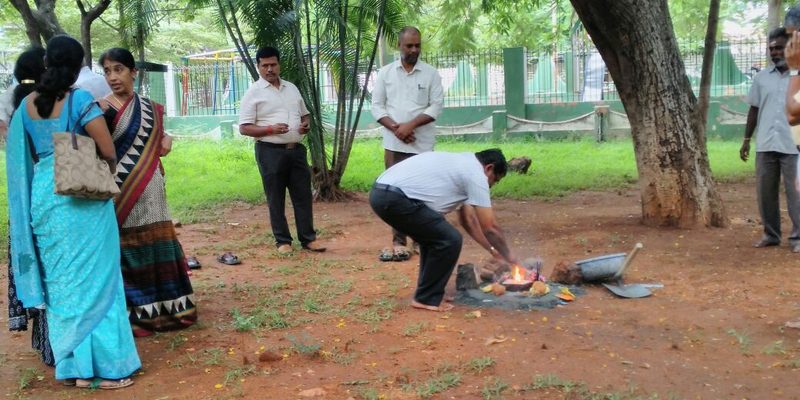 The CapaCITIES SUNYA project is being implemented in wards 22 and 24 with the support of Swiss Agency for Development and Cooperation (SDC) in Coimbatore. With the support of Residential Awareness Association of Coimbatore (RAAC), Bharathi Park Ladies Association (BPLA), Jawahar Nagar Ladies Association (JNLA) and Robert Bosch, the Information Education Communication (IEC) activities have been organised in these wards for the past five months in order to achieve source segregation and collection effectively. After the successful collection of segregated waste from the residents of Bharathi Park, the Coimbatore City Municipal Corporation (CCMC) removed community bins and planted saplings.
As a token of appreciation, a felicitation function was organised at the Corporation Park in Alagesan Road on the 12th of July, 2018. At the event, Dr. Vijayakarthikeyan, IAS, Commissioner along with Mr. K. Arjunan, MLA, Coimbatore South Constituency and Mrs. P. Gandhimathi, Deputy Commissioner, awarded Star Resident certificates to 45 inhabitants and 12 Star Performer certificates to the sanitary workers. Similarly, four Star Campaigner certificates were awarded to the local associations. In addition to the certificates, the compost made out of ward 22 segregated organic waste was issued to the Star Residents. Later, the Commissioner inspected the functioning of compost plant at the West Zone office under this project.
To implement the on-site composting, places were identified at the Corporation Park and Bharathi Park for the treatment of garden waste under this project and the construction work is in procress. Mr. Kumar, Asst. Commissioner, West Zone, Mr. K. Saravanakumar, Executive Engineer, Mr. Mathiazhagan, PRO, and Mr. R. Radhakrishnan, ZSO, West Zone took part in the event.