Workshop on WASH activities in Solapur's Haglur Village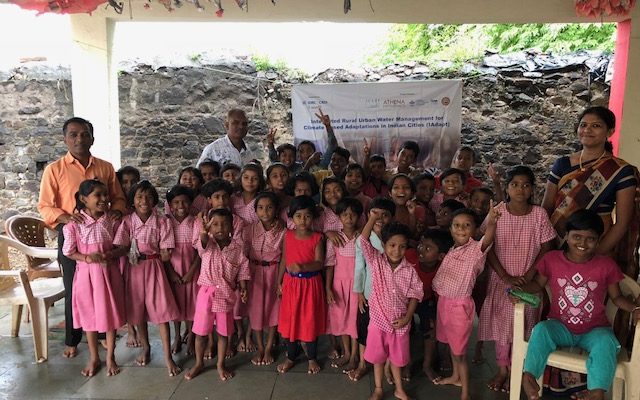 As part of the International Development Research Centre (IDRC) supported Integrated Rural Urban Water Management for Climate based Adaptations in Indian cities (IAdapt) project, ICLEI South Asia conducted Training Programme on awareness and improvement of Water, Sanitation and Hygiene (WASH) in various schools in rural areas of Ekrukh micro catchment in Solapur. Awareness activities with the school children included training on WASH best practices, movie show and quiz on water conservation, and drawing competition on clean environment and water for life. More than 180 participants attended these training and awareness activities conducted in Ekrukh, Haglur and Tale Hipparga villages.
A workshop to promote WASH (Water, Sanitation, and Hygiene) best practices and awareness on water management was conducted in a secondary school in Haglur village, Solapur on the 12 of July, 2018. Activities such as hand washing demonstrations, quiz on solid waste segregation, drawing competition on water management theme, hygiene and sanitation were conducted to sensitise children on hand washing with soap as a key approach to disease prevention and saving every water drop for secure future.
A presentation was given to students on water cycle and integrated water management, information on water pollution and factors contributing to water pollution were also shown through caricatures. The quiz competition helped improve the understanding of students on solid waste management. Later, the school was given two dustbins to practice waste segregation within the school premises. An animated film on sanitation and self-hygiene was also screened.
Drawing competitions were organised in all the three villages. In Haglur, 35 students participated from the secondary school (class 5, 6, 7 and 8) located within the village. In Ekrukh 25 students participated from the only school in the village. In TaleHipparga, 70 students from three secondary schools participated in the competition. The drawing competition helped to inspire creative thoughts on how best to present proper water management and WASH practices among children. Along with community leaders and school teachers, children enthusiastically participated in all the activities and helped to make the programme meaningful.
During the four-day visit, ICLEI South Asia team also conducted discussions with the Mahila Bachat Mandal about the project and importance of water conservation. During the meeting, awareness on the importance of water conservation, ways to conserve water and other major issues related to livelihood and basic services in the villages were discussed with the women. The women group shared valuable suggestions like construction of a community toilet, recharging bore well, compost training, and handloom product training to be able to improve employment opportunity. A meeting with the Sarpanch and Panchayat members was also organized to discuss possible interventions that can be carried out through the project.