Workshop in Thailand marks closure of ACCCRN Project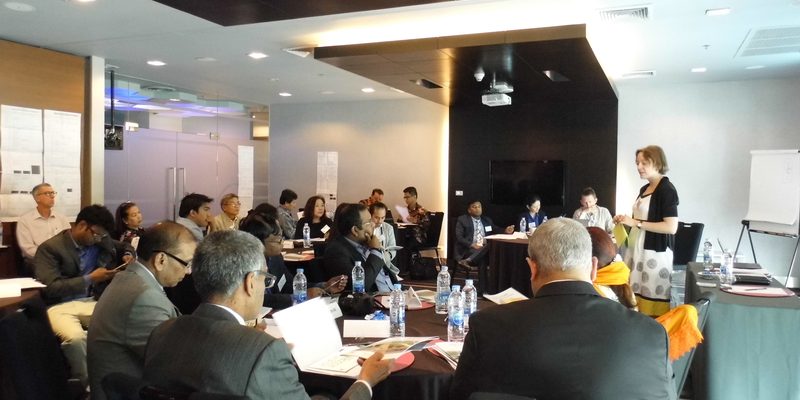 After more than four years of action in four Asian countries, the Rockefeller Foundation supported Asian Cities Climate Change Resilience Network (ACCCRN) initiative of translating and scaling up the ICLEI ACCCRN Process came to a closure through a conference held in Bangkok, Thailand from Feb 28 – March 1, 2017. The workshop was organised jointly by the International Institute for Environment and Development (IIED) and ICLEI Oceania in association with ICLEI South Asia and Southeast Asia secretariat.
IIED is carrying out a study to analyze and compare the City Resilience Strategies that have been developed by 40 cities under this project. The aim of the workshop was to gather the inputs of city representatives for the finalization of the analysis and to exchange lessons learnt from city-level processes. This was also an opportunity to reflect on the implementation of the Engagement Building Grants that was used in some cities in pilot projects on resilience building.
Representatives from around 16 cities participated in the workshop. From the South Asian region, three cities from India – Gangtok, Kurseong, Patna – and four cities from Bangladesh – Rajshahi, Barisal, Mongla and Sirajganj – participated in the workshop. All the cities shared their experiences from the implementation of ICLEI ACCCRN Process toolkit, identified commonalities and differences across cities in developing Resilience Strategies and implementing small resilience building projects and also how to take forward the urban resilience action in their cities.
According to Md. Zulfikar Ali, honourable Mayor, Mongla Port Municipality, "The ACCCRN project triggers us to think for the environmental improvement and sustainability of the cities; as a consequence, I have already initiated actions on green area development, prioritized actions on the storm water drainage and rain water harvesting to provide potable drinking water to all residents of the city." Mr. Sanjay Prasad, Urban Planner, Kurseong Municipality pointed out that 'generating a sense of ownership among stakeholders is key to success of a project; though the process is a bit slow in the beginning, but later it produces far reaching cooperation for project development".
The workshop facilitated the consultation and validation of the findings from the IIED-ICLEI research project regarding the common learnings and experiences from the ICLEI-ACCCRN process.