Workshops held in Kushtia, Bangladesh under ACCCRN small grants programme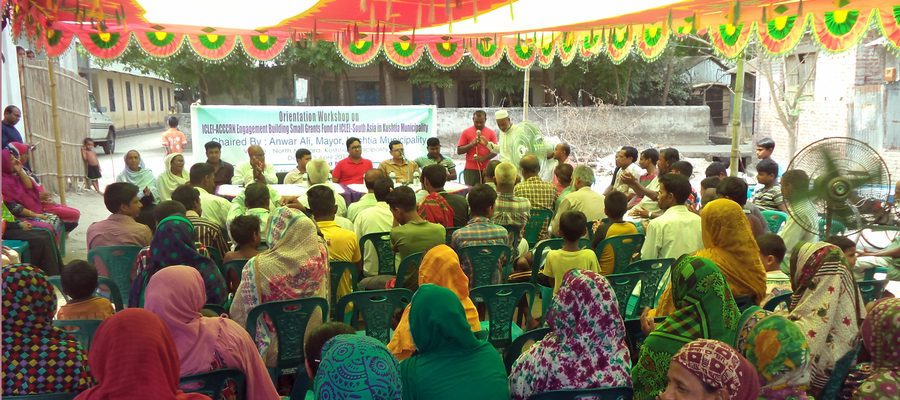 Two workshops were held in April 2017, in Kushtia Municipality of Bangladesh, under ACCCRN's Engagement Building Small Gants Fund. The initiative in Kushtia is dedicated to "Construction of RCC Drain & Supporting Road to Save and Improve the Life Standard of the People at Gorai Ashroyan Phase-2". Earlier this year, two cities in Bangladesh had received Engagement Building Grants provided by the Rockefeller Foundation and facilitated by ICLEI – Local Governments for Sustainability, South Asia.
The initiative in Kushtia aims to improve the living conditions of about 4,000 slum people of Gorai Ashroyan Phase-2 area and consists of three major parts: construction of roads and drains; conducting workshop with the stakeholders on climate change issues; and raising awareness regarding the impact of the project on climate change related issues. The Municipality is expecting that after the implementation of this project, people can commute without much hassle. The initiative will also ensure convenience in moving and transporting goods to and from their home during a flood.
While the objective of the first workshop, held on April 2, was to introduce the project among all key personnel of Kushtia Municipality, the second, held on April 3, aimed at ensuring effective implementation of the project, and increasing awareness among beneficiary groups.
About 300 participants attended the second workshop that was attended by Mr. Anwar Ali, Mayor of Kushtia Municipality, climate core team, municipal staff, academicians, civil society members, NGO workers and North Millpara slum area residents – the key beneficiaries. The event was organised on the project site of North Millpara slum area where information about climate change, its impacts, and the project benefits has already been shared with the residents.
Since floods in monsoon are a common occurrence in this low-income community, the slum residents have agreed with the benefits of this project and committed to ensure the efficient use of structure that will be built. The workshop was concluded with an inaugural of civil works by the Mayor of Kushtia Municipality.