Stakeholders come together at ICLEI South Asia event to share experiences and challenges under Smart City Mission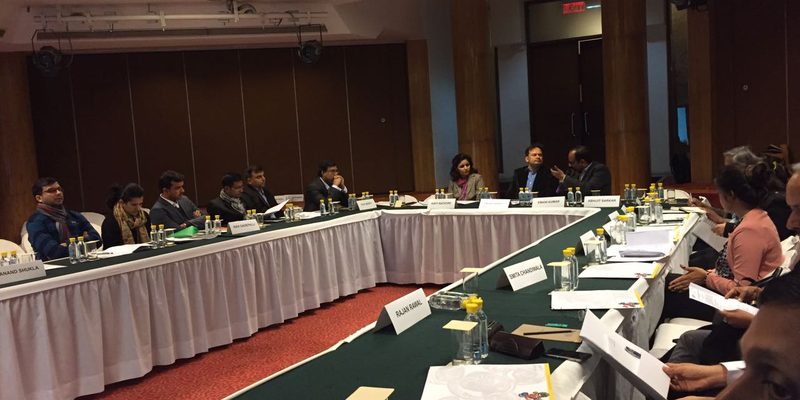 A knowledge sharing round table on Supporting Sustainable Urban Transport and Built Environment in Indian Smart Cities was held on January 17, 2017, at India Habitat Centre, in New Delhi. The roundtable (on invitation only) was attended by about 30 participants, including a range of stakeholders – architects, planners, consultants, government stakeholders, and individuals involved in smart city projects. The discussion focussed on the contribution of ICLEI Local Governments for Sustainability South Asia and partners SGArchitects in providing handholding support to smart cities in two states and sharing of their learnings while assisting the cities. Kicking off the event, Mr Emani Kumar, Executive Director, ICLEI South Asia thanked Shakti Sustainable Energy Foundation for their support to ICLEI South Asia's efforts in Rajasthan and Andhra Pradesh cities.
Initiating discussions on smart cities, Mr Chinmay Acharya, Chief of Programme, Shakti Sustainable Energy Foundation, asserted that the concept was perceived differently by different people. He, however, emphasised that in context of cities, "smart" must reflect on what would be the implications of decisions taken by the authorities on the citizens as well as the environment.
The roundtable comprised of two sessions where the first session involved experience sharing by ICLEI South Asia and partners. Ashish Rao Ghorpade, Regional Executive Manager, ICLEI South Asia set the agenda for the conference and provided a broad picture of support offered to cities under different aspects of transportation and built environment. This was followed by detailed presentation on each component by Mr. Sandeep Gandhi, Principal Architect, Sandeep Gandhi Architects; Ms. Ruchita Bansal, Manager (Urban), ICLEI South Asia; Mr. Rajan Rawal, Executive Director, and Centre for Advanced Research in Building Science and Energy, CEPT University, Ahmedabad, among others.
Smart City Web Tool
A Smart City Web Tool that has been prepared by ICLEI South Asia to aggregate all the already existing information on policies, programmes and projects addressing the smart city goals was also introduced at the roundtable. Besides, the team from ICLEI South Asia also presented a procurement programme and an operational model for e-rickshaw initiative under a smart city plan in Kakinada, Andhra Pradesh. They also shared challenges in providing subsidies and finalising procurement of e-rickshaws for the city. The initiative that will be formally launched soon aims at bringing an economical mode of transport to the city and improving the lives and livelihood of the already prevailing cycle rickshaw pullers in the city. Routes for a pilot run have been identified.
Read more about Smart City Web Tool
The second session focused on cities sharing the status of Special Purpose Vehicle (SPV) and Project Management Consultant (PMC) creation, and their experiences on implementing smart city projects and challenges in areas of mobility and built environment. The discussions around mobility and built environment highlighted the successes and the challenges being faced by different cities in introducing smarter measures. The group particularly applauded ICLEI South Asia and SGArchitects' efforts towards traffic management solutions for Udaipur city of Rajasthan.
Also read: ICLEI intervention helps decongest traffic at Udaipur stretch
Highlighting the challenges in implementing initiatives and offering handholding support in traffic management, Mr Sandeep Gandhi asserted that activities on streets of any city define its character. It is, therefore, vital to provide space for informal activity in any urban intervention that is proposed. Ms Ruchita Bansal of ICLEI South Asia suggested that multi-level parking is a standalone solution; approach needs to be more holistic. "A possible solution is to introduce parking management plan for each areas with a strategy for the whole city," she said.
Thereafter, acknowledging city's efforts and suggesting a way forward, Ms Kirti Rathore, ACEO, Udaipur Smart Cities Limited, stated that the city is now looking forward to water and waste related initiatives. "We are hoping that very soon a ward in the city will be declared a zero waste ward," she added. The CEO of Jaipur Smart City Limited, Mr Sandesh Nayak was also present at the meeting to share his perspectives. He mentioned lack of enforcement of traffic and parking rules as one major challenge for the Pink City.
Ms. Monika Ahirwar, Assistant Planner, Bhopal Smart City Development Corporation Limited, Mr. N.S.N. Murty, Executive Director and Leader (Smart Cities), PWC, Mr. Dheeraj Kumar, Executive Officer, Karnal Municipal Corporation, Mr. Abhijit Sarkar, Advisor (Road Transport), Delhi Multi Modal Transit System Ltd (DIMTS), and Mr. Ajai Mathur, Managing Director & CEO, Urban Mass Transit Company Limited were also present at the roundtable.
As concluding remarks, Mr Ashish Rao Ghorpade of ICLEI South Asia thanked the participants for further discussions and hoped to collaborate with them for further efforts.